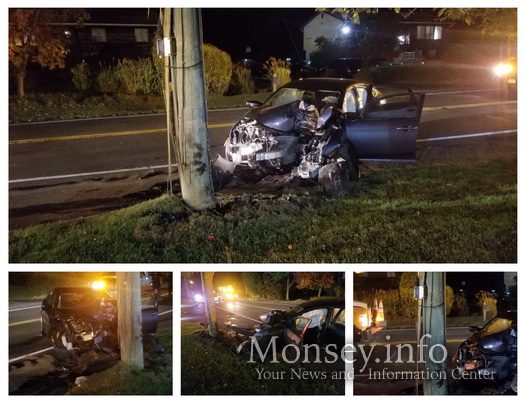 A woman was transported to the hospital in the early hours of Shabbos morning, after she hit a utility pole while driving in New Heampstead.
by Monsey.info
At approximately 3:41am, Ramapo Police Department responded to a one vehicle crash on Route 45 in the Village of New Hempstead.
Upon arrival, the officers discovered that a vehicle had struck a utility pole nose first.
The female driver suffered serious, but non-life threatening injuries and was transported to Westchester Medical Center by Spring Valley EMS.
The cause of the crash is currently under investigation.
As a result of the damage, power to the area was briefly disrupted.
Route 45 was closed to all traffic between Rensselaer Drive and Greenridge Way as the utility crews worked to restore power. The road was opened to traffic by 5:40am.
Photo Credit: Ramapo PD Facebook