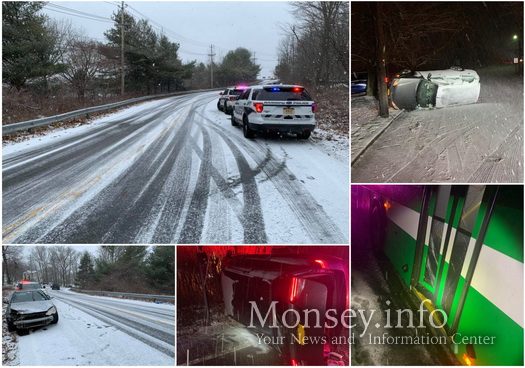 by Monsey.info
Sunday's storm, which brought snow and ice to Rockland County, also brought a slew of weather related car crashes, with more than five responded to by the Ramapo Police Department.
"RPD is currently at the scene of several motor vehicle crashes due to inclement weather," the Ramapo Police Department posted on Facebook Sunday evening. "If you must travel please use caution."
On their Facebook page, the Ramapo Police Department posted two vehicle rollovers, both caused by weather conditions.
One of the rollovers involved a TOR bus, and multiple injuries.
As the weather cleared Monday, the accidents continued with at least two reported throughout the day.
Please remember to use caution when driving on weather effected roads.
Photo Credit: Ramapo PD Facebook