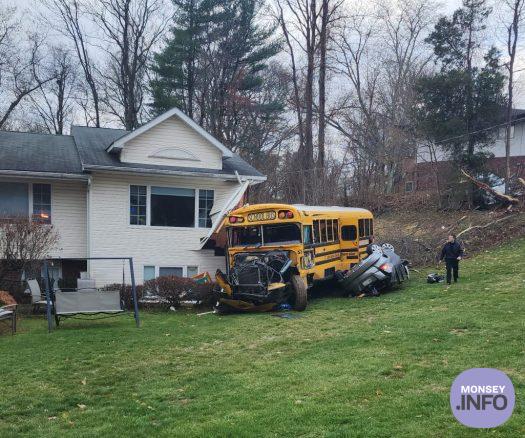 UPDATED: Multiple Injuries After Crash Sends School Bus Into A Home
by Monsey.info
Emergency services went rushing to Southgate Drive Thursday morning after receiving word that a school bus had been involved in a rollover crash.
According to initial reports, the school bus and at least two vehicles had been involved in the crash, sending one of the vehicles onto its roof and the bus careening into a home.
The School bus, from Rivnitz, sustained significant damage.
Hatzalah and Spring Hill EMS arrived with multiple ambulances to provide care at the multiple casualty incident.
The cause of the crash and severity of the injuries remains unknown at this time.
This is a developing story and will be updated as information becomes available.
Update 12:00pm: Reports indicate that eight people in total were injured in the crash, seven children and the driver of the bus. According to the police, the bus was attempting to navigate a turn when it hit two parked cars, sending the bus and both vehicles down an embankment and into the house.
Update 12:19pm: The injuries are reported to all be non life threatening.