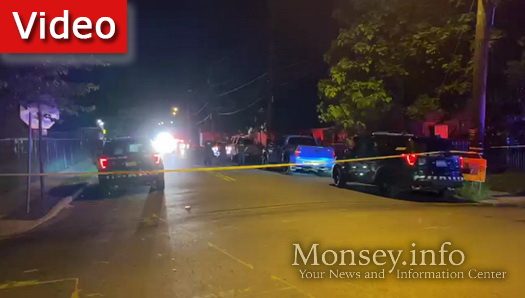 by Monsey.info
An active shooter situation in Spring Valley has activated multiple police departments throughout Rockland County.
This article will be update live as information becomes available.
Update In Summary: The Spring Valley Police Department along with multiple agencies from throughout Rockland County responded to the scene of a shooting in the area of Rose Ave and Fred Hecht Dr. Three people were reported shot, with one person declared deceased on scene. The shooting is believed to be gang related.
One person was arrested for obstructing the police, but was not one of the shooters.
Update: Video from the arrest.
Update 10:50pm: At least one arrest has been made so far.
Update: Scene From Rose and Fredrick
Update 10:25pm: Another report of Shots fired at another location.
Update 10:24pm: Shooting location is Rose & Fredrick. Possible multiple shootings.
Update 10:22pm: Injuries reported with initial reports of one person dead.
Update 10:20pm: Police Departments responding – Spring Valley, Ramapo, Sheriff, State, Clarkstown, and Orangetown.