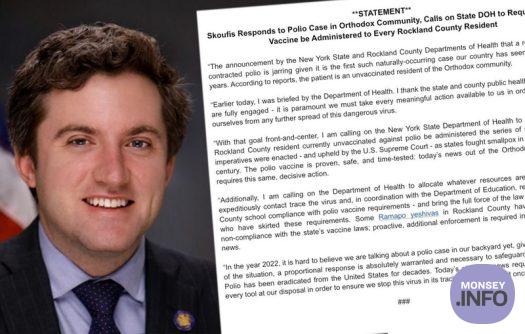 DISGUSTING: New York State Senator Responds To News Of Polio Case By Blaming The Jews
by Monsey.info
Update: The tweeted statements by Skoufis have been removed from his social media page.
Just hours after the news broke across country that a case of Polio had been detected in Rockland County, the New York State Senator for the 39th District responded with an age old response, blame the Jews.
James Skoufis, who has represented the 39th District since 2019, broke the news that the person who had contracted the virus was "an unvaccinated resident of the Orthodox community." This information, a matter that is usually kept private, has not been disclosed by any other elected official.
In his five paragraph statement, Skoufis calls the discovery "jarring" and notes that such a discovery was not seen in the United States in 40 years, before going on a rant against what he claims is a non-compliance with vaccine laws in Ramapo Yeshivas.
"Additionally, I am calling on the Department of Health to allocate whatever resources are necessary to expeditiously contact trace the virus and, in coordination with the Department of Education, review Rockland County School compliance with Polio vaccine requirements – and bring the full force of the law down on those who have skirted those requirements," Skoufis wrote. "Some Ramapo Yeshivas in Rockland County have a history of non-compliance with the states vaccine laws; proactive, additional enforcement is required in light of today's news."
The jump to blame the Jews and attack Rockland's Yeshivas appeared to draw condemnation from across the board.
"Hi Senator, What exactly are you hoping to accomplish here with such a nasty statement?" wrote New York Activst Geoffrey Davis. "Hasn't there been enough hatred in your county in recent years ? this isn't how leaders resolve a health crisis."
Joel Taubaum responded to the shocking statement with sarcasm "This is how you build bridges with communities you are trying to work with while avoiding the spread of hate/antisemitism. Not!"
Perhaps realizing that his tone deaf words weren't helping the situation, Skoufis later tweeted that "Earlier tonight, I reached out to leaders in the Rockland Jewish community to discuss the situation and some of the concerns with proposed ways forward. I truly appreciate the sensitivity on the ground and am committed to continuing the dialogue to ensure next steps are appropriate, relevant, science-based and in the best interests of the community."