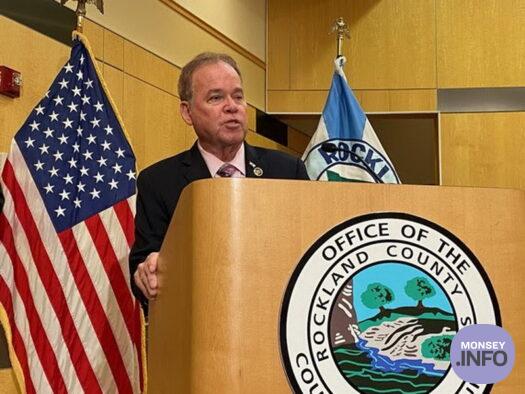 Ed Day: "Mayor Eric Adams Can Call Me Every Name in the Book"
On Thursday the County of Rockland was granted a Temporary Restraining Order in New York Supreme Court against the City of New York and Mayor Eric Adams, prohibiting the City from proceeding with their plan to turn the Armoni Inn and Suites in Orangeburg into a shelter for 340 migrants. NYC Mayor Eric Adams was less than pleased.
"Mayor Eric Adams can call me every name in the book to deflect the reality of his clear disregard for our laws and failure to deliver on the promise of being a Sanctuary City," Rockland County Executive Ed Day said. "He's breaking local and state laws, has no regard for State of Emergencies, and deceived and lied continuously – all of which speak volumes of his character."
Day pointed out that he had dug Rockland County out of $138M deficit and double digit tax increases in nearly one term by taking responsibility for the municipality, and that Adams could "learn a thing or two from me about what it takes to be a leader which he is clearly failing at."
Due to the City of New York's lack of honest and clear disregard for local and state laws and the State of Emergency in Orange County, the Rockland County Sheriff's Office has been posted outside of the hotel as a precaution.
"The City of New York lacks authority to establish a shelter outside of its boundaries in addition to failing to follow New York State rules and regulations required to do so," explained Rockland County Attorney Thomas Humbach. "At this point, the Temporary Restraining Order prohibits the City from bringing people to Rockland County for the purpose of sheltering them."