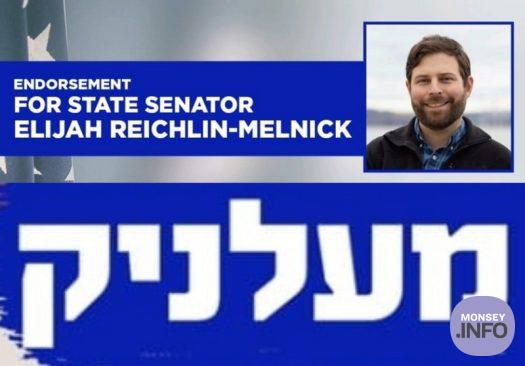 Elected Officials from the Greater Monsey Community Endorse Senator Elijah Reichlin-Melnick
We write to you today to express our full support and endorsement for State Senator Elijah Reichlin-Melnick, who has been serving our district for the last two years in the State Legislature in Albany.
Senator Melnick has met with community leaders and discussed in great detail our concerns and needs. The Senator has pledged and is committed to working hard for the needs of our community. Senator Melnick has a long history of working with our community dating back to working as a staffer for both Congressman Eliot Engel and Congresswoman Nita Lowey. We truly believe that as a representative for us in the State Senate, we have a strong partner in Albany.
Senator Elijah Reichlin-Melnick has fought hard in Albany in his first two years in office. He passed income tax and property tax cuts, and helped end the state gas tax to fight inflation. Moving forward, he has committed to fight to make sure that regardless of what happens at the local level, no public or private school students will lose access to busing, and he is committed to finding real solutions to resolve the issues with the East Ramapo School District. He voted several times to make changes to the bail reform laws, and he has his own bill to put people behind bars that commit gun crimes. Senator Melnick has made our community safer, passing legislation for harsher penalties on hate crimes and cracking down on anti-semitism.
Senator Elijah Reichlin-Melnick has shown real commitment to his job, and has brought funding from Albany for our towns and villages. He has committed to continue doing so as an incumbent senator in the majority.
A vote for him is a vote for all of us!