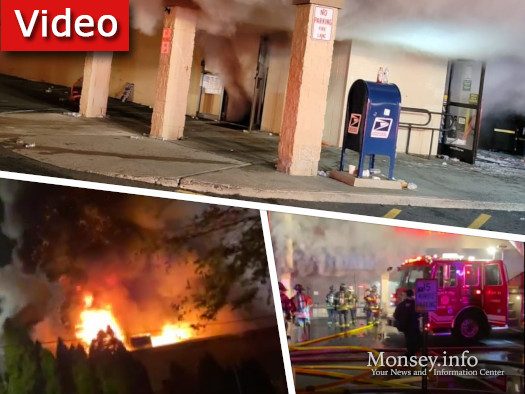 Elusive Fire In Rockland County Gun Range Burned On For Nearly An Entire Day
by Monsey.info
A frustrating fire took nearly an entire day to extinguish after a fire started in the walls of an underground gun range.
According to Chief Jim Morrison of the Pearl River Fire Department, firefighters responded to 100 N Middletown Rd at approximately 12:00 Sunday afternoon after those in the gun range noticed a large amount of smoke coming from the range's walls.
Firefighters entered the underground space to find a heavy smoke condition, but were unable to access the the fire iself.
The fire spread from the walls to the ceiling, burning between the gun range and above ground stores.
Over 100 firefighters battled the blaze into the morning as the flames slowly burned through the floor and burst through the stores roof.
Hours later, firefighters could still be seen at the site of the fire.
In total, six firefighters were treated for smoke inhalation and minor injuries throughout the day long blaze.
The fire is presently under investigation.
SOT Fire Chief.mp4 from Rockland Video Productions, NY on Vimeo.