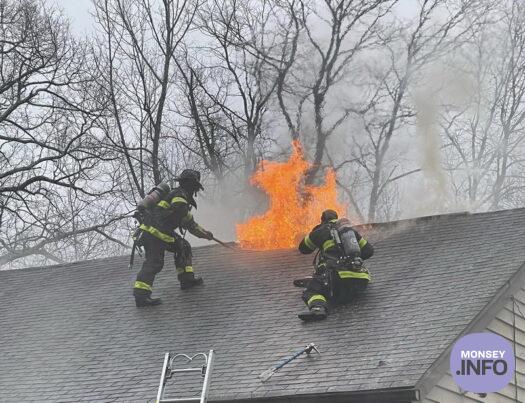 Fire Breaks Out In Suffern Shul During Shabbos Shacharis
by Monsey.info
Firefighters rushed to Congregation Bais Torah in Suffern Shabbos morning after congregants began to smell smoke during Shacharis.
According to the fire department, they were notified first by an automatic alarm at 9:38am of a smoke condition at the Shul, only to be called moments later with the report that the shul was on fire.
Firefighters from multiple agencies arrived at the shul at 89 W. Carlton Rd to find that the fire was in the attic space above the Shul. Firefighters were forced to cut holes in the roof to access the fire.
"There were a lot of void spaces and access issues to the fire, so we had to make multiple cuts through the roof and the ceiling below to find the main body of the fire," Dennis Murphy Jr., of the Tallman Volunteer Fire Department said. "It was kind of like playing Jenga with the roof because we had to cut around certain things without causing any other issues."
The fire was extinguished within a half hour and no significant injuries were reported.
Congregation Bais Torah is a warm and friendly Orthodox shul founded by Rabbi Berel Wein over 30 years ago and remains a beacon of Jewish life in the quickly growing Jewish area.