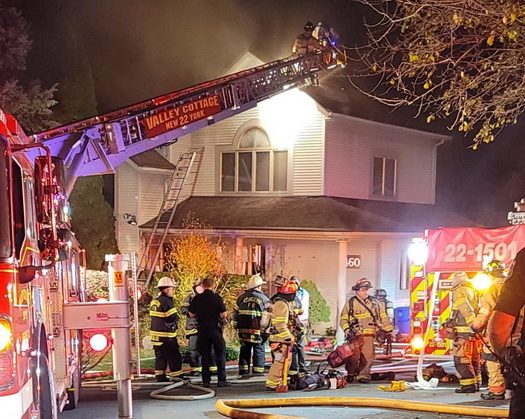 Firefighter Injured Battling Rockland County Blaze
by Monsey.info
A firefighter was injured Monday night while battling a blaze in Valley Cottage.
According to a press release by the Clarkstown Police Department, On Monday, November 1, 2021, at approximately 9:10pm, officers from the Clarkstown Police Department responded to 460 Storms Rd. Valley Cottage, for a reported house fire.
The first responding officers found heavy smoke billowing from the basement of the home, and were able to confirm that the home was unoccupied at the time.
Multiple fire companies responded to the scene to assist the Valley Cottage Fire Department in extinguishing the fire.
As the firefighters were working to extinguish the blaze, firefighter Ryan Ebner, 24, suffered burns and smoke inhalation requiring him to be transported to Westchester Medical Center for treatment.

The Clarkstown Detective Bureau responded to the scene and is investigating the fire.