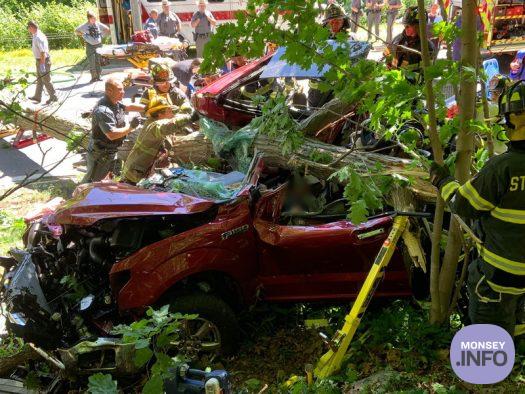 Freak Accident Leaves One Dead In Palisades Crash
by Monsey.info
A tragic freak accident caused the death of one person and injured two more on the Palisades Interstate Parkway Sunday.
Police responded to the crash at the mile marker 29.8 in the town of Stony Point to find a 2018 Ford F-150 crumpled under a tree limb off the Parkway.
A preliminary investigation by the State Police determined that the pickup truck had been traveling north on the Parkway when a large tree fell from the east shoulder and struck the passenger side of the vehicle.
Anthony Apostolico, 48, of Chester, NY, was the passenger in the truck and died at the scene. The driver, Vincent A. Apostolico, 20, of Chester, NY, was transported to Hackensack University Medical Center and is listed in critical condition. A second passenger, Elizabeth M. Apostolico, 17, also of Chester, NY, was transported to Westchester Medical Center for treatment of leg injuries.
The State Police were assisted on the scene by the New York State Park Police, Stony Point Fire Department, town of Highland EMS, Rockland County EMS, and Hatzolah EMS.