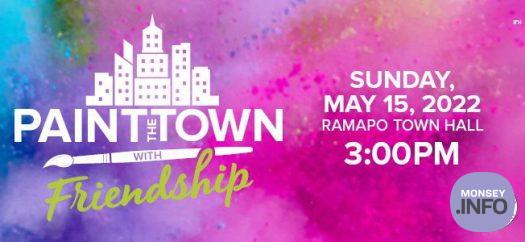 Friendship Circle Teaming Up With The Town of Ramapo for "Paint the Town with Friendship" Event
This coming Sunday at 3:00pm, The Chabad of Suffern, in collaboration with the Town of Ramapo is hosting a "Paint the Town with Friendship" event on the front lawn of Town Hall, bringing concepts of inclusion to life in a creative, colorful, positive and unifying way.
Children of all abilities will have the opportunity to connect and express themselves through art. Friendship Circle members together with the community will paint the windows of Ramapo Town Hall with messages of friendship, acceptance and kindness. Artist inspired street signs will celebrate these messages and decorate the event.
Attendees will enjoy a variety of concessions, entertainment and music. Festivities conclude with creating a mural; a collaborative masterpiece made by artist Yitzchok Moully and Friendship Circle members. The #WeAllBelong mural will spread the message that it is precisely diversity that brings vibrancy and life to a community, because We All Belong.
Date: Sunday, 5/15
Time: 3pm to 5pm
Where: Ramapo Town Hall Front Lawn, 237 Route 59, Suffern, NY