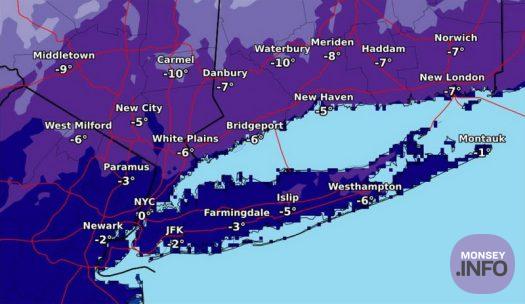 Frigid Temperatures Through Wednesday
According to the US National Weather Service an arctic airmass will affect Rockland County Monday, January 10th into Wednesday, January 12th bringing frigid temperatures and sub zero wind chills.
"Windchills of 0 to 10 below zero are likely Tuesday morning and into early Tuesday afternoon for parts of the region," the NWS wrote. "Air temperatures will likely be 20 degrees F or lower for between 30 and 40 hrs (starting this evening and going into Wednesday morning) across the area, posing a significant threat for poorly insulated pipes to freeze and burst."
The Rockland County Department of Health reminded residents to protect their health with these cold weather safety tips:
– If you must go outside, make it as brief as possible. Dress warmly in windproof clothing and go indoors when you begin to feel cold. Wear several layers of loose
-fitting clothing to trap body heat. Fasten buttons or zippers and tighten drawstrings securely. Don't forget gloves, mittens, and a hat that covers the ears.
– Keep dry. Change wet clothing frequently to prevent a loss of body heat.- If you will be spending time outside, do not ignore shivering
– it is an important first sign that your body is losing heat and a signal to quickly return indoors.
– Keep in mind that alcoholic beverages cause the body to lose heat more rapidly.
– Older adults are especially susceptible to hypothermia and frostbite. People who have older relatives or neighbors should keep an eye on them during the cold, winter months.
– The World Health Organization recommends keeping indoor temperatures between 64 and 75 degrees Fahrenheit for healthy people. The minimum temperature should be kept above 68 degrees Fahrenheit to protect the very young, the elderly, or people with health problems.
– If you need to use an alternate heating source such as a fireplace or wood stove, be sure to have adequate ventilation to the outside. Without enough fresh air, carbon monoxide fumes can build up in your home and cause sickness or even death. Keep children away from all heaters to avoid accidental burns. Never use a stove or fireplace unless it is properly installed and vented.
– Never use a natural gas or propane stove/oven to heat your home.
– Residents with heat-related problems may contact the Rockland Health Department at (845) 364-2585.