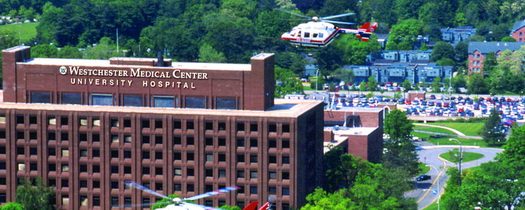 by Monsey.info
Westchester Medical Center has ranked for years as the number one Hospital for critically ill and injured people across the lower Hudson Valley. Recently, after a series of nightmarish experiences, it has gained notoriety on a different list, as medical providers are finding serious fault in its medical care and capabilities.
V. Burger was not having a good day. A vehicle accident weeks earlier had left him with a horrendous headache that had been getting worse. It was Saturday morning, and his worst fears were materializing at an alarming rate.
His morning began as he woke up, unable move his hands and with difficulty seeing and balancing. Understanding that these were life threatening signs, he called for an ambulance, who rushed him to Westchester Medical Center.
The phrase "hurry up and wait" is usually reserved for visiting your local physician, where you had better not miss your appointment time, but are expected to wait hours to see your doctor.
An emergency department of a prestigious hospital is expected to be held to a higher standard. Just not in this case, or others, according to the hospital's actions.

Three hours after arriving, they finally wheeled him into a CAT scan, where the hospital identified the life-threatening bleed in the brain. With orders not to get out of bed, Burger laid in the hallway of the emergency room.
Hour after hour, as the doctors continued to tell him that he was in the "fatal stage" of the bleed, they presented excuses for why he wasn't yet in surgery, saying that they were waiting for a bed, and other excuses.
It was now around 7:00pm, and as his headache continued to worsen, Burger began feeling that his chances of making it out of the hospital alive were slim. He decided it was necessary to take photos of his brain scans and sending them to a private doctor. The response was not promising. In the doctor's opinion, if the hospital didn't get him into surgery immediately, he could be permanently paralyzed.
It was now 11:45pm, in desperation, with no sign of seeing the surgical table, Burger signed himself out of the hospital against the Emergency Room Physicians advice. As he signed himself out, the truth emerged.
"They didn't even have a doctor to do the surgery," Burger said. "They were just going to let me die. If I had stayed in Westchester, there is no question in my mind I would have died."
Soon after, he was being rushed into New York University's Emergency Room in Midtown Manhattan. Doctors were stunned as they saw the life-threatening bleed in Mr. Burgers brain. Minutes later, the surgeons were boring two holes in his skull, desperately attempting to relieve the growing pressure strangling his brain.
The issues with the medical care in Westchester Medical Center are not a new problem, according to one Rockland County resident. The Hospital used to be the go-to hospital for the entire lower Hudson Valley, including Rockland County.
Rescue choppers routinely would transfer critical patients to Westchester, and Emergency Medical Services made the Hospital their first destination for those requiring medical care.
Now, that's all changed. The stretch to Manhattan's Hospitals is considered by many medical providers as beneficial for some patient outcomes, and vital for others.

Rivka (name changed to protect patient privacy) isn't even five years old. Her parents rushed her into Westchester Medical Center after an accident with a folding chair amputated the thumb of her dominant hand, considered perhaps a person's most important finger.
"We did everything we knew how to do," Rivka's mother said, "We made sure the amputated finger was properly taken care of and quickly went to the hospital."

After arriving in the hospital, they were given the last room, given an X-ray, then forgotten about.
Her father began making phone calls after sitting for hours without a Doctor or nurse even coming to cover the child's exposed and infection prone finger. Community liaisons called their contacts to no avail, they were either ignored or rebuffed.
After nearly five hours of waiting, being told that the situation was "no big deal", the attending physician finally spoke with the family, and the surgical team called to reconnect the finger.
As the student surgeon began reconnecting the amputated finger, over six hours after arriving at the hospital, they seemed to understand the gravity of the delay, muttering that if only they had been called earlier the finger might have had a chance of healing. Now they simply reattached it to "protect the tissue," using the amputated finger like a band aid.
Stunned at their words, the father put the doctors on the spot, only to be told that "the finger might have not reattached anyways."
Physicians and Doctors who followed up with Rivka were horrified at the subpar medical care provided.
The family, desperate to fix the worsening disaster, brought Rivka to a private specialist, and received a full rundown of what was not done correctly. From the amount of time, to the wrong stitches placed, the hospitals level of care was grossly unacceptable.
With no real alternatives, and a growing need for high quality medical care, local Doctors are feeling trapped with Westchester Medical Center, according to one Physician. They feel torn between what they feel required by law to do, and what it has become apparent is in the best interest of their patients.