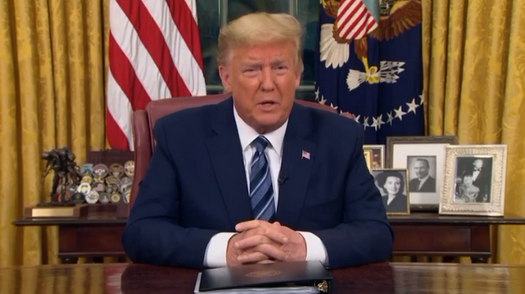 New York Post and Monsey.info
President Trump granted clemency to nearly 150 people in the final hours of his presidency, including prominent allies, high-profile entertainers and many lesser-known convicted drug offenders.
Former White House strategist Steve Bannon, one-time Trump fundraiser Elliott Broidy and rapper Lil Wayne were among 73 people granted pardons.
Ken Kurson, a friend of Jared Kushner's, was also pardoned. He was charged in October with cyberstalking in connection to a bitter divorce.
Two notable Jews who received commutations were Eli Weinstein of Lakewood and Sholom Weiss of Monsey.
The Trump Administration published a statement on Weinstein's commutation, saying:
"President Trump commuted the sentence of Eliyahu Weinstein. This commutation is supported by former U.S. Attorney Brett Tolman, former Representative Bob Barr, former U.S. Attorney Joseph Whittle, Professor Alan Dershowitz, Representative Mark Walker, Representative Scott Perry, Representative Jeff Van Drew, Jessica Jackson of the Reform Alliance, The Tzedek Association, Dr. Danny Feuer, and numerous victims who have written in support. Mr. Weinstein is the father of seven children and a loving husband. He is currently serving his eighth year of a 24-year sentence for a real estate investment fraud and has maintained an exemplary prison history. Upon his release, he will have strong support from his community and members of his faith."
Weiss was the recipient of what is believed to be the longest-ever white-collar prison sentence, with more than 800 years in prison in 2000.