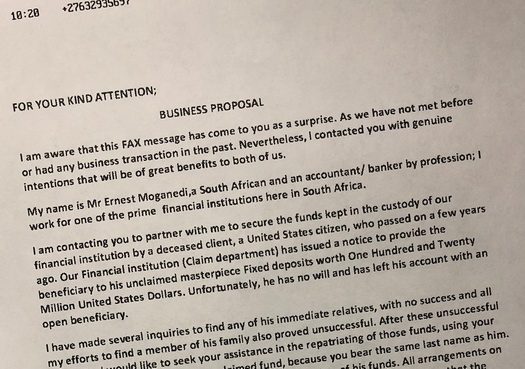 by Monsey.info
You couldn't have written a more comic story.
A scammer, attempting to lure unsuspecting people into giving them money, decided to use the fax machine as their method of communication. Perhaps they thought that as it is used more by the elderly, that the recipient would more gullible. Or perhaps they have little access to technology themselves.
Either way, they failed miserably Tuesday after they sent the fax to the Ramapo Police Department.
"The scammers are getting desperate," the Police Department wrote on their facebook. "This one decided to fax his scam letter to our police department."
The letter was signed by a Mr. Ernest Moganedi, who claims to be an accountant in South Africa. In the letter, Ernest earnestly attempts to convince you that you were chosen for a legal attempt to steal twelve million dollars. All you would have to do is give some personal information, and 30% of the $120,000,000 would be yours.
"30% of $120,000,000 certainly sounds enticing," the Police Department wrote. "However, we are not falling for it and we hope that others won't fall for it either."
Please remember, if it sounds too good to be true, it usually is.