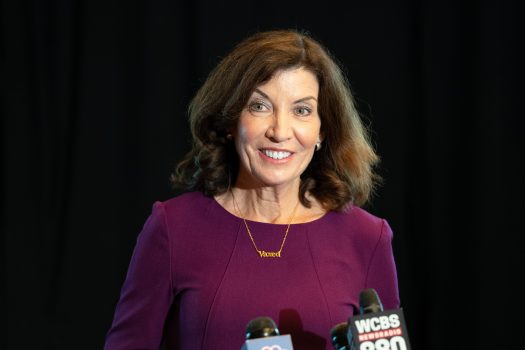 Governor Kathy Hochul makes an announcement on hate crime at the Museum of Jewish Heritage.
Governor Kathy Hochul today announced that Haverstraw and Ossining will receive $10 million each in funding as the Mid-Hudson region winners of the fifth round of the Downtown Revitalization Initiative (DRI).
As part of DRI Round 5, each of the state's 10 regional economic development regions are being awarded $20 million, to make for a total state commitment of $200 million in funding and investments to help communities boost their post COVID-19 economies by transforming downtowns into vibrant neighborhoods.
"Our downtowns are the hubs for communities to connect and thrive, and as a former local official I know personally how transformative this funding can be to boost quality of life," Governor Hochul said. "Through our Downtown Revitalization Initiative, we will continue to give communities, like Ossining and Haverstraw, across the state the extra boost they need to recover from the pandemic and create more viable, livable, walkable downtowns."
Lieutenant Governor Brian Benjamin said, "If we are to rebuild New York, we have to invest in downtowns throughout the state, which is why the Downtown Revitalization Initiative is so important. With this investment in infrastructure improvements, these areas will become regional hubs for economic and cultural activity."
The DRI serves as a cornerstone of the state's economic development policy by transforming downtown neighborhoods into vibrant centers of activity that offer a high quality of life and attract redevelopment, businesses, jobs, and economic and housing diversity. In this round, Governor Hochul doubled funding from $100 million to $200 million and allowed each Regional Economic Development Council to decide whether to nominate two $10 million awardees or one $20 million awardee for transformative and catalytic downtown redevelopment projects. Like past DRI rounds, each selected community will develop a strategic plan through a bottom-up, community-based planning process that articulates a vision for the revitalization of its downtown and identifies a list of signature projects that have the potential to transform the downtown and leverage further private and public investments. DRI funds will then be awarded for selected projects that have the greatest potential to jumpstart revitalization and realize the community's vision for the downtown. The DRI is led by the Department of State and through its partnership with the New York State Energy Research and Development Authority (NYSERDA), technical support to the awardees will be provided to assist them with including carbon neutral principles in support of the state's goal to reduce greenhouse gas emissions by 85 percent by 2050.
Haverstraw
Haverstraw's downtown is a high-density neighborhood close to the Hudson riverfront. The village aims to make this area an inclusive, lively, 21st century urban center where residents and visitors can live, work, learn and play. Haverstraw has stayed committed to downtown revitalization with multiple completed and ongoing projects, including multiple mixed-use developments, a new waterfront esplanade, and streetscape improvements. Building on this work, Haverstraw aims to redevelop vacant space, expand public space, increase the economic activity of and access to the waterfront, as well as embrace their diverse history.