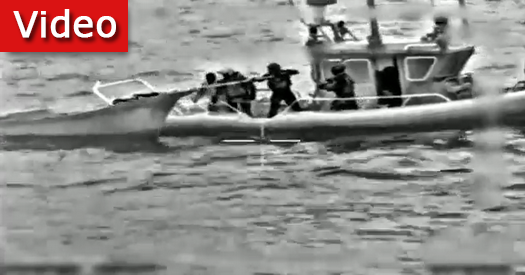 A few weeks ago, the Israeli Navy thwarted a naval smuggling attempt of weapons into the Gaza Strip from the coast of northern Sinai. The intelligence and operational activity was conducted following joint operational and intelligence efforts of the Israeli Navy and the ISA along with the IDF Intelligence Directorate.
Following the ISA's activity, the suspects involved in the smuggling were identified. Cooperation between the organizations enabled the detection of the vessel suspected of the smuggling.
The maritime intelligence operators of the Israeli Navy located the suspected vessel and dispatched Navy troops to pursue it. Following the pursuit, the vessel was captured and two terror operatives aboard were apprehended and transferred to the ISA for further questioning.
The investigation of the terror operatives indicated that the seized weapons were intended to be used by the Hamas terror organization. In addition, during the investigation, details were obtained regarding Hamas naval smuggling efforts, information regarding smugglers and equipment used for force build-up related to the Hamas terror organization. One of the terror operatives apprehended is Mahmoud Bakir, a senior smuggler who works with various terror organizations in the Gaza Strip. His apprehension constitutes a significant operational achievement. On June 4th, 2020, charges were filed against Mahmoud Bakir to the Be'er Sheva District Court.
This operation joins a series of thwarting activities intended to prevent the armament plans of the Hamas terror organization in the Gaza Strip, degrade their force generation capabilities and is part of the ongoing effort to thwart terrorist activity of any kind against Israeli civilians. The IDF and ISA will continue operating to thwart terror activity and naval smuggling intended for increasing terror in the Gaza Strip.
IDF: Cleared for publication- A few weeks ago, the Israeli Navy thwarted a naval smuggling attempt of weapons into the Gaza Strip from the coast of northern Sinai. The intelligence and operational activity was conducted following joint operational and intelligence efforts

(1/7) pic.twitter.com/G8xLsDHptv — Emanuel (Mannie) Fabian (@manniefabian) June 17, 2020