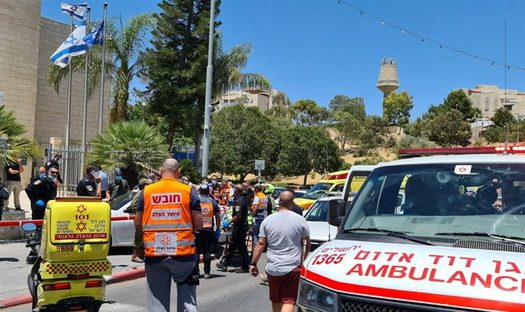 In the second attack today in the Ma'aleh Adumim area, a ramming incident took place at the "Kiosk" checkpoint near Kedar, in the Ma'aleh Adumim area, according to a preliminary report.
The attacker was neutralized, and security forces are making their way to the scene. To date, no wounded have been reported among IDF forces.
Border Police spokesmen said it was an apparent attempt to run over Border Police officers stationed at the Kiosk crossing in Abu Dis.
It was also reported that "the vehicle was fired at. The terrorist is in serious condition according to medical officials. There are no casualties to our forces."
Earlier, one person was killed and three more wounded in a shooting just outside of Jerusalem Tuesday afternoon.
Police say that a car carrying four people arrived at a police station in Maale Adumim, east of Jerusalem, Tuesday afternoon.
The four people in the car were suffering from gunshot wounds, and requested assistance from police.
One of the four victims, a man in his 30s, was declared dead at the scene, United Hatzalah reported.