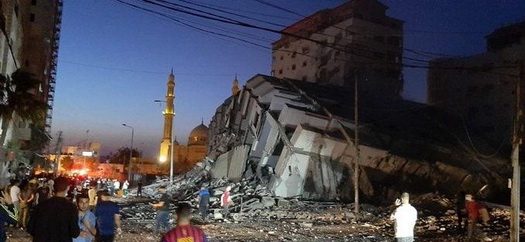 by Monsey.info
The conflict raged overnight Tuesday, with hundreds of rockets raining down on Tel-Aviv, and Israel escalating its response.
Overnight, the number of rockets launched from Gaza topped 1000 since the conflict began two days ago, with some direct hits causing casualties.
Israel's response to the indiscriminate firing of rockets at civilian neighborhoods has been savage, assassinating multiple leaders of the Hamas and other Gaza factions. The IAF has also targeted tall buildings, rocket launchers, missile storage facilities and underground infrastructure.
Bassem Issa, the commander of Hamas's Gaza City Brigade, Jamaa Tahla, the head of its cyber command and responsible for improving the accuracy of the group's rockets, Jamal Zabeda, the head of research and special projects in its munitions productions department, Hazzem Hatib, Hamas's chief engineer in its munitions department, Sami Radwan, who leads Hamas' technical intelligence department, and Walid Smali, who was in charge of industrial equipment for the group's weapons production department, were all killed in air strikes.
The targeting of officials had proven in the past to be an effective tool in curbing violence while keeping civilian casualties low.
Within Israel, the Arab and Israeli mixed city of Lod became the ground zero for civil unrest, as Shuls were torched and citizens roamed the streets looking for other factions. Overnight, the Border Patrol entered the city and established a curfew to enforce the peace.
We will be updating this story throughout the day with the most up to date information.
Update 7:18pm: Direct hit in Petach Tikvah. Hit a building and started a large fire, no injuries.
Update 6:33pm: Direct hit reported in Tel Aviv.
Update 6:20pm: Rockets fired from Gaza triggering alerts as far as the Lower Galilee.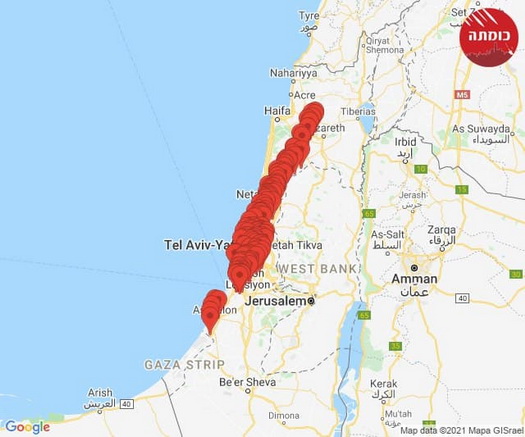 Update 6:17pm: Massive bombardment of Gaza. Most of Gaza reported to be out of electricity.
Update 6:13pm: Hamas-run Health Ministry in Gaza says 67 killed, including 17 minors, and 388 wounded from IDF strikes so far.
Update 5:46pm: At this time, approximately 1500 rockets have been fired from the Gaza Strip towards Israeli territory, of which approximately 350 failed launches fell in the Gaza Strip. The Iron Dome Aerial Defense System intercepted hundreds of rockets.
Update 5:25pm: No rocket attacks since about 22:00, but the IDF is still striking in Gaza.
Update 4:41pm: Biden: "My expectation and hope this will be closing down sooner than later. Israel has a right to defend itself when you have thousands of rockets flying into your territory."
Update 4:32pm: Shooting reported toward IDF forces near Nablus, 2 injuries, Palestinian assailant shot, according to initial reports.
Update 1:37pm: 6 y/o boy dead, his mother seriously wounded, and 3 more light-moderately wounded
Update 12:48pm: Massive bombardment of Sderot, medics treating 4 injuries in Sderot: 1 serious, 3 moderate from a direct hit.
Update 12:15pm: IDF says they struck a Islamic Jihad ATGM cell in their vehicle in Gaza.
Update 12:14pm: Video surfaces showing rocket launchers being parked in a residential neighborhood in Gaza, unconfirmed:
Update 12:07pm: Al-Shorouk Tower in Gaza destroyed.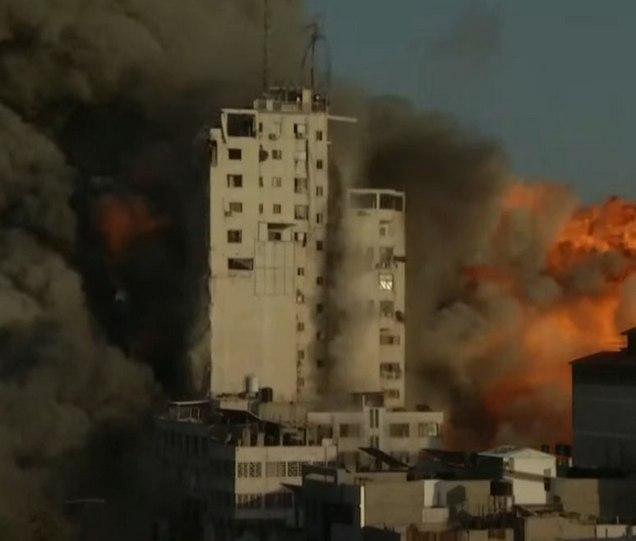 Update 11:20am: Breaking. The cities of Eilat and Haifa have been ordered to open their bomb shelters.
Update 11:10am: Mortars on southern border communities at 18:05.
Update 10:35am: Another building in Gaza is about to be destroyed in a strike, "roof-knock" issued a short while ago. This will likely trigger a massive rocket barrage response from Hamas.
Update 10:34am: Khalil Awad, 52, and his daughter Nadine, 16. were killed yesterday in Dahmash village next to Lod by a Hamas rocket from Gaza.
Update 10:22am: Palestinian armed with a knife shot in the leg by IDF soldiers near a checkpoint in Hebron, initial reports say
Update 10:09am: Staff Sgt Omer Tabib from the Nahal Brigade is the IDF soldier killed in the ATGM missile attack on the Gaza border today.
Update 10:08am: Hamas-run Health Ministry in Gaza says 53 killed, including 14 minors, and 320 wounded from IDF strikes so far.