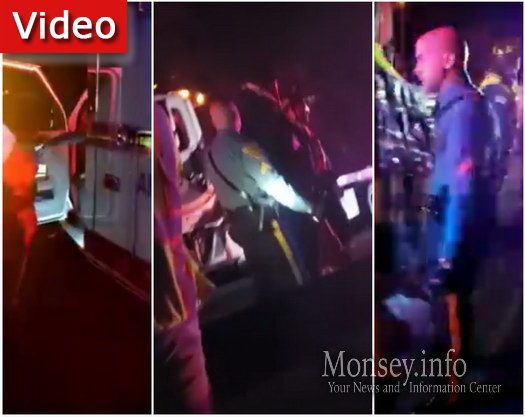 Shocking reports have surfaced of a New Jersey State Trooper forcing Hatzalah to leave a patient in need of medical attention during a Rollover scene Friday morning.
by Monsey.info
As a general rule of thumb, the man with the gun is always the boss.
The rule played out around 1:00am Friday morning when Rockland Hatzalah responded to an emergency call on the New Jersey Thruway.
As Rockland Hatzalah had recently been credentialed to respond to emergencies in New Jersey, an ambulance responded with multiple members.
When they arrived, they began treating a victim of the rollover.
A New Jersey State Police officer also responding to the rollover took issue with Hatzalah, and can be seen on video taking the patient away from the ambulance, as well demanding that the Hatzalah ambulance be removed.
When confronted that there was a patient that needed to be treated, the officer refused to listen, going so far as to threaten that the ambulance will be impounded.
When the EMT's continued to demand that the officer allow them to treat their patient, the officer again refused, hopped into the open Hatzalah Ambulance, and began to drive it off the road.
The relationship between Rockland Hatzalah and the New Jersey State Police has been rocky in the past, which prompted Hatzalah to acquire their New Jersey credentials.
The Coordinators of Rockland Hatzalah are reportedly taking the incident very seriously, with various steps already being taken to address this issue.