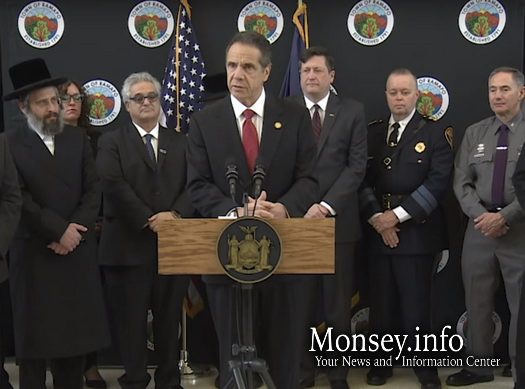 Governor Andrew Cuomo held a press conference in Monsey on Monday and announced new funding to strengthen the security for Monsey's Jewish community.
Cuomo will direct up to $680,000 towards the new security measures, with $340,000 going to the Village of New Square and up to $340,000 to the Town of Ramapo that will be used to install electronic license plate readers and other security cameras.
Grafton Thomas, the man who carried out the devastating stabbing attack on Chanukah that's left one victim in critical condition, was caught in Manhattan using this technology.
Cuomo also announced that the state would expand the curriculum in public schools to include lessons on tolerance and to teach about the contributions of the Jewish people to New York.
The governor also announced $45 million in funding last week that will be used to protect religious institutions in New York from hate crimes.