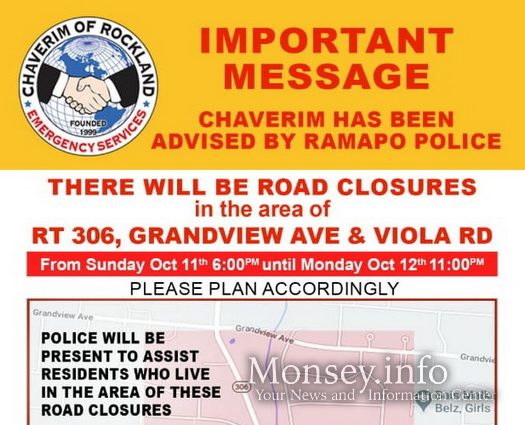 by Monsey.info
Due to the area of the Ribnitzer Rebbe's burial place being inside the Rockland County "Red Zone", Rockland Chaverim has warned potential visitors of local road closures.
According to Chaverim, the entire area will be blocked to vehicular traffic, and law enforcement will be strictly enforcing COVID-19 rules.
Over 20,000 people have previously meade the annnual pilgrimage to the site of the Ribnitzer Rebbe located on Route 306, and with this year being the 25th year, is not expected to be less.
Road closures in the area will begin around 6:00pm on Simchas Torah and will last through 11:00pm on Monday night.
Those living in the blocked areas will need to show identification to pass thorough the checkpoints.
Closures will include Route 306 from Kearsing Parkway through Grandview Avenue, Viola Road from West Maple Avenue through Brockton Road and Brick Church Road from Route 306 to Union Road.