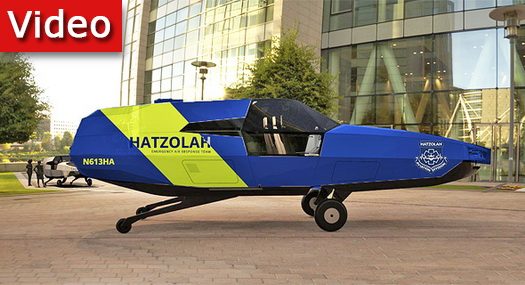 Israel-based Urban Aeronautics has announced that it will provide four of its CityHawk vertical take-off and landing aircraft to Hatzolah Air, an American-based company that provides emergency medical service (EMS) applications, reported Calcalistech.com. The news follows an initial agreement with Hatzolah AIr in August 2020 to develop, produce, and market the CityHawk aircraft.
"Hatzolah's pre-order of four air ambulance CityHawks is an amazing show of confidence in our program and in our company," said Nimrod Golan-Yanay, CEO of Urban Aeronautics. "We look forward to delivering on our promise to revolutionize urban air mobility and the emergency response capabilities of major cities across the world."
Urban Aeronautics is an Israel-based aerospace company that helps design and develops car-sized aircraft helping with effective transport in city landscapes. The CityHawk has completed 300 test flights and can fly in urban, wooded, and mountainous regions. The concept CityHawk would accommodate a pilot, a patient plus companion, two EMT personnel and life support equipment.
Hatzolah Air – who will become the official sales representative and distribution channel worldwide – provides and funds local and national air transportation to those in medical need. It has thousands of volunteer doctors, paramedics, and EMTs around the world.
The new aircraft is expected to be available for use in approximately 3-5 years.
"We are excited to become not just the worldwide distributor of Urban Aeronautics' Air Ambulance CityHawk, but its first customer as well," added Eli Rowe, President of Hatzolah Air. "Hatzolah's mission is always about patient care, and adding the VTOL CityHawk has the potential to save many thousands of lives every year."