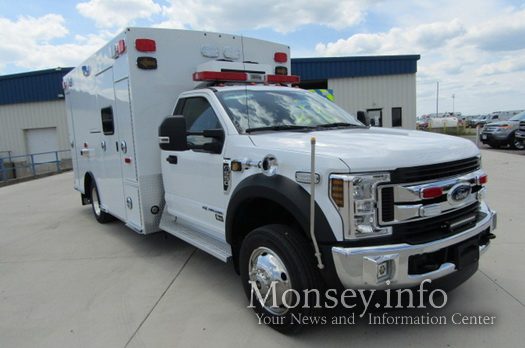 by Monsey.info
Another ambulance joined the fleet of Rockland Hatzoloh with the delivery of brand new ambulance jam packed with the newest designs and equipment.
The Braun style ambulance is mounted on a Ford F-450 chassis, and includes state of the art electronics, 360 degree visibility, and a fully autonomous self loading stretcher.
The ambulance was delivered this week, and Braun Ambulances posted a congratulatory post on Instagram.
"Congratulations to Hatzoloh EMS of Rockland County on their new Type I Chief XL Ford F-450 ambulance delivered in partnership with Eagle Fire & Emergency Vehicles," they wrote.
It remains to be seen if Hatzoloh will use the new ambulance to replace one of their aging ambulances, or will simply be adding it to the fleet.
With the surging growth of the Jewish community in Rockland County and long transport times, the need for additional ambulances has become apparent.
Photo Credit: Braun Ambulance