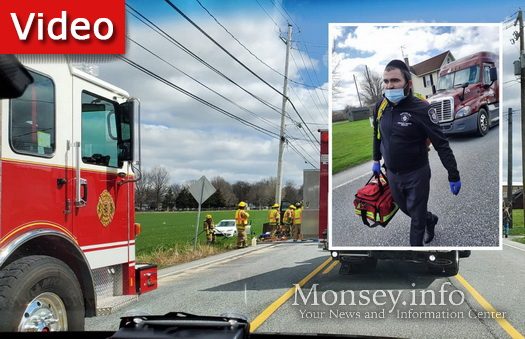 A Montreal Hatzalah volunteer driving on a Pennsylvania roadway came across the scene of a major car crash Thursday, and jumped head in to save lives.
Yiddy Itzkowitz, known as Montreal Hatzalah Unit 101, was on Route 30 in Lancaster County Pennsylvania when he came across a major head on crash.
Without missing a beat, Yiddy left his family in the car and jumped out with his life saving medical equipment, providing emergency medical treatment as one of the first emergency medical responders on scene.
With multiple critical patients, the responding fire chief showed his gratitude to the Hatzalah member, noting that it was very nice to see a Chasidic Jewish guy helped out non Jewish people.
The crash was covered by local news network WGAL.com, where Itzkowitz can clearly be seen standing with the firefighters as they work to extricate patients from the wreck.
While volunteers from Hatzalah divisions worldwide regularly assist in such situations daily, it is rarely published in the media, making those times that they are highlighted an exceptional Kiddush Hashem.