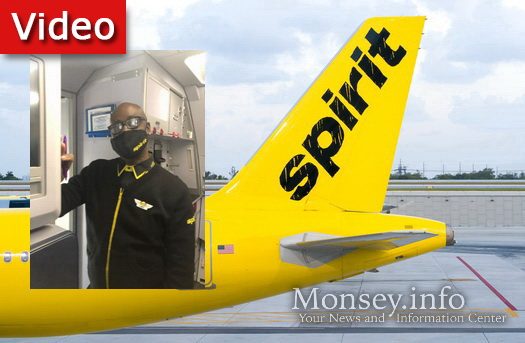 by Daniel Eleff – DansDeals
Another day, another odd case of mask enforcement on an ultra low-cost carrier. Last month it was Frontier that had some explaining to do. Today's it's Spirit.
Viral video going around social media shows a family on Spirit flight 138 today from Orlando to Atlantic City with a father, pregnant mother, 7 year old son with special needs, and a 2 year old daughter being told they need to leave the plane due to mask non-compliance.
Below are some of those clips.
The family is told to leave the plane due to their 2 year old not being masked. However their 2 year old is eating when the family is told to leave. The father asks around if he was wearing a mask until then and other passengers confirm that he was.
Unsurprisingly, the 2 year old has no interest in wearing a mask, which is one of the reasons I haven't flown anywhere with my own family since January 2020.
Police are called and the Spirit agents tell them they won't fly the family and want them removed:
The family explains that the 2 year old won't wear a mask, well, because she's 2.
Now, that's not really a good excuse. Everyone flying is told that 2 year olds need to wear a mask.
But the rule is completely absurd and one would hope that flight attendants would be OK as long as the parents make an effort to keep their child masked when not eating. A 2 year old can't be expected to keep a mask on, but it is the rule. Their 7 year old son with special needs doesn't appear to have been the issue and federal law now allows for health exceptions to in-flight mask rules.
I'm not quite sure if the talmudic migo like argument applies in that they could have lied about the 2 year old's age but chose to be honest works, but worth a shot I suppose?
In the end, the entire plane was deboarded and the family accused the crew of being anti-Semitic:
After deboarding, the family had a conversation with the police:
The Orlando Police Department then spoke with the captain and he confirmed that all the crew were happy to have the family back on the flight, except for Darryl.
Passengers say that flight attendant Darryl was responsible for kicking the family off the flight.
Video shows Darryl walking away from the flight, along with police:
Darryl was replaced by another flight attendant and the flight reboarded: