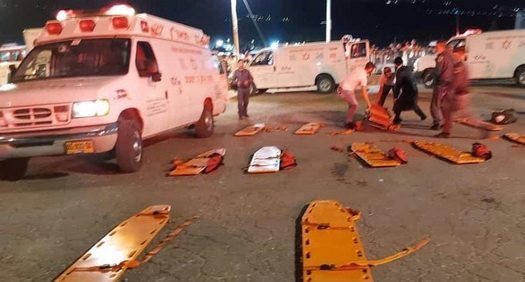 by Monsey.info
A tragedy has occurred in Meron as a bleacher collapsed at the Toldos Ahron Hadlacka, sending tens of people tumbling.
Heart-wrenching video from the scene showed as Magen David Adom and Hatzalah Paramedics frantically attempt to pull people from the pile, with many people having CPR done on them.
This article will be updated as information becomes available.
Update 9:50pm: The media is reporting now that 45 dead confirmed.
Update 9:00pm: The Israeli media is reporting that the number of deceased went up to 40.
Update 8:10pm: So far 38 people have been killed. A total of 69 wounded were evacuated: 12 wounded were evacuated to Nahariya, 1 of them moderately and the rest lightly. Ziv has evacuated, 46 of whom were evacuated in critical condition. A total of 5 were evacuated to Rambam in a severe condition, to Poria 1 in a moderate condition and 5 in light condition.
Update 7:29pm: As per Zaka Radio Transmission, 38 people have been confirmed dead.
Update 7:28pm: Magen David Adom spokesman Zaki Heller said following the incident in Meron that the injuries were caused due to crowding and not as a result of a grandstand collapse.
Magen David Adom paramedics provided medical care to 50 people, of whom about 20 are in critical condition. Six helicopters were rushed to the scene to evacuate the victims, in addition to MDA ambulances that evacuated the victims to Ziv Hospital in Tzfat and Galilee Medical Center in Nahariya.
Update 7:06pm: Department of Transportation: Following the decision of the Israel Police, all the buses and trains on the way to Meron return to the departure points. The event is over.
Update 7:05pm: Reports from the scene of up to 37 dead
Update 7:04pm: Statement By Prime Minister Benjamin Netanyahu: "A serious disaster on Mount Meron. We all pray for the healing of the injured. I strengthen the rescue services operating in the area."
Update 6:56pm: The military has arrived with helicopters to transport some of the critically injured to the hospital.
Update 6:52pm: Please say Tehillim as many people are listed in critical condition and have been transported to the hospital.
Update: As many as 30 people have already been pronounced dead, with many more injured.