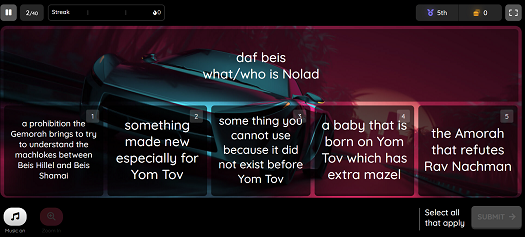 Sometimes, we take on a small project, without imagining the impact.
Six weeks ago, Daniel Shmerling, a sixth grade student at Yeshivah College (Oholei Yosef Yitzchok Lubavitch) in Melbourne, made a quiz for himself and family members to review Mesechta Sukkah. Unbeknownst to him, it spread via social media and news sites like crownheights.info, with a new person completing it every 8 minutes for the first day.
Due to the overwhelming response, Daniel decided to continue this project. His quiz on Mesechta Beitzah (also called Bei'ah) is now available for those who will be completing it today with Daf Yomi or otherwise learning this Mesechta.
Mesechta Bei'ah deals with the laws of Yom Tov. Topics discussed include types of work allowed on Yom Tov, as well as Muktza, the second day Yom Tov in the Diaspora, Eruv Tavshilin and Eruv Techumin.
To take the quiz, with one review question per daf (folio) of Mesechta Beitzah, click here: https://quizizz.com/join?gc=26213982
[After two weeks from today, use the following link instead: https://quizizz.com/admin/quiz/61301a1c107691001d089612]
Congratulations to Corey in first place and Alexander in second place on the Mesechta Sukkah quiz.