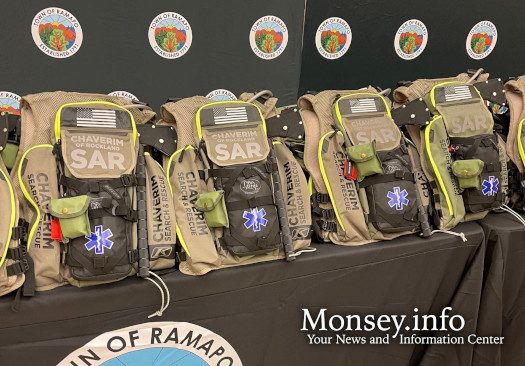 by Monsey.info
A group of thirty volunteers from Chaverim's Search and Rescue Team received their completion certificates and gear this past week at an event attended by County and local officials.
"It was a true pleasure for the Town of Ramapo to host an event in honor of Chaverim of Rockland last evening," the town wrote on their Facebook page.
The volunteers had completed their intense six month wilderness and medical training course, bringing their training to Chaverim's famed Search and Rescue Team.
Fully equipped Search and Rescue backpacks with mediacal and survival items were donated by the Town of Ramapo, and provided to each of the volunteers.
Many county and local officials joined the evet, including District Attorney Thomas Walsh, Sheriff Louis Falco, Supervisor Michael Specht, Deputy Supervisor Brendel Logan Charles, Chief of Staff Mona Montal, Ramapo Police Chief Martin Reilly, and Chief Assistant District Attorney Patrick Frawley.
In their statements made at the event, the supervisor, chief, sheriff, and district attorney shared similar sentiments of friendship, noting their pleasure working and collaborating with their friends at Chaverim.