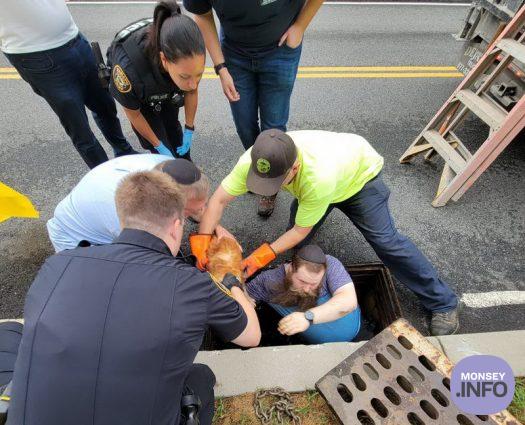 Kiddush Hashem: Chaverim Assist in Rescuing Trapped Dog in Wesley Hills
by Monsey.info
Ginger, a dog who disappeared in Rockland County last Thursday, was finally reunited with her family Monday after an interagency rescue operation in the storm drain where she was trapped.
At about 1:45pm, Ramapo PD officers responded to Wesley Hills for a report of a dog barking from a storm drain. The responding officers were met by the Town of Ramapo Highway Department, as well as volunteers from Spring Hill Community Ambulance Corps and Chaverim of Rockland, who happened to be driving by and wanted to help.
The storm drain cover was removed by Highway workers and the dog, Ginger, was lifted out unharmed before being was taken to a nearby animal hospital for evaluation.
It turns out, Ginger was missing since Thursday, and the owner had been handing out flyers ever since.
The anonymous woman who located the dog recognized Ginger and contacted the owner, who was happy to have her baby back.