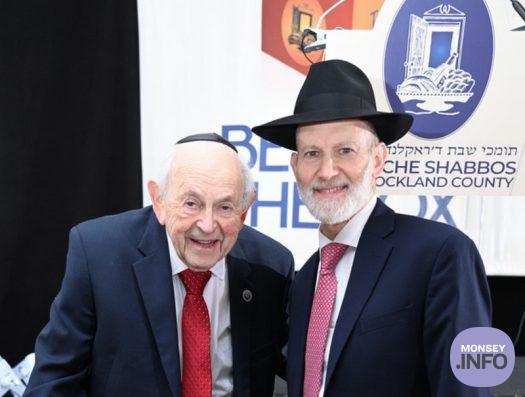 Rockland County Legislator Phil Soskin and Tomche Shabbos Board President Alan Rosenstock. Credit: Sam Heinemann Photography
Legislator Soskin Honors Volunteers at Tomchei Shabbos Dinner
Rockland County Legislator Phil Soskin recognized honorees at this year's Tomche Shabbos annual dinner to call attention to the nonprofit's work and support of the community.
"The services provided by Tomche Shabbos are making a difference in the daily lives of so many of our neighbors," Legislator Soskin said. "The organization continually reacts to the needs of the community by adjusting its services. While it provides a box of food to a struggling family, it also helps individuals with other needs so they can improve their lives for themselves and their families."
Tomche Shabbos has served Rockland County since 1973, starting out with the goal of providing a simple box of food to destitute families. That mission continues, with 550 families discreetly receiving a weekly delivery, but the organization has significantly expanded its services to go 'beyond the box' in many ways.
"For more than three decades we dropped a box of food anonymously at the doors of struggling families," Tomche Shabbos Board President Alan Rosenstock said. "All along it seemed sufficient. But with the passage of time, life became far more complicated, and the needs intensified. And so, we began to go 'beyond the box.'"
Today, Tomche Shabbos also offers clothing, so parents and children aren't embarrassed going to work or school; computer literacy and other adult education classes, as well as job placement services; emergency humanitarian grants to restore water and electricity to families whose services have been cut, and to assist with medical debt incurred by those grappling with serious illness; help for those facing eviction; and counseling to assist individuals and families in breaking any cycle of dysfunction.
Instead of just helping somebody when they are in crisis, Tomche Shabbos tries to fix the root cause of the crisis so that the individual or family can support themselves, the nonprofit's Director of Development, Avi Goldstein, said.
Tomche Shabbos' Dinner Chairman Shua Heber told the audience a story about a Monsey man who many years ago travelled from America to Israel, bringing one suitcase of clothing and personal items for himself and another with American products requested by friends and family in Israel. When the luggage came off the plane, only one suitcase came off the carousel – the one with everyone else's items.
"When the buzzer sounds, all we are really left with is what we did for others, and of course what we did for Hashem," Chairman Heber said.
Tomche Shabbos' food deliveries take place at night to afford discretion and at this year's annual dinner, held Sunday, the organization recognized the 200-plus volunteers who have helped with that effort for the past 30 years.
Also honored were Guests of Honor Sruly & Melanie Dahan and Volunteer of the Year Mel Heching. The Allen Nussbaum Award for Excellence was presented to Efraim Aaron.
"These volunteers are the cogs in the wheel that is Tomche Shabbos," Legislator Soskin said. "The contributions of these many caring people have allowed so many others to have a better quality of life. I recognize and thank each of them because they make our county a better place."