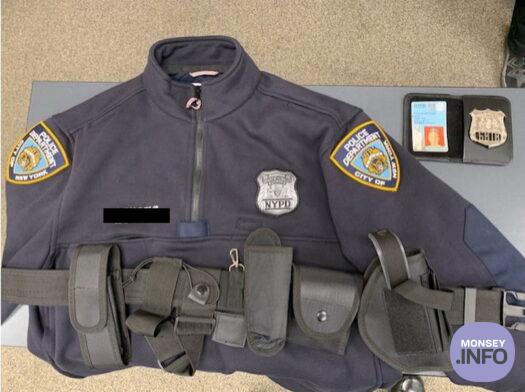 Man Pretending To Be NYPD Officer Arrested in Montebello
by Monsey.info
Ramapo Police Officers responding to a home in Montebello Tuesday arrested a man impersonating an officer of the NYPD.
"On 5/9/2023, Ramapo Police were called to a residence in the Village of Montebello for a report of a suspicious vehicle parked in the driveway," The Ramapo Police Department wrote. "Upon arrival, our officers encountered a 24-year-old male from Staten Island, who was wearing the NYPD Sweatshirt and gun belt pictured."
The person provided an NYPD Identification Card and NYPD Shield claiming to be an NYPD Officer. Upon further investigation, it was discovered that both the NYPD shield and ID Card in his possession were fraudulent.
The man was arrested and charged with Impersonating a Public Servant 3rd Degree, and Possession of a Forged Instrument 2nd Degree. He was arraigned and released without bail.