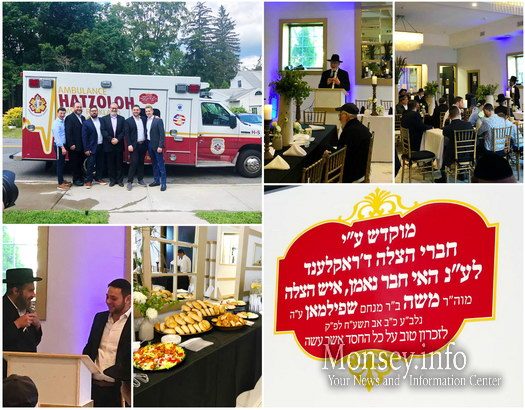 Rockland Hatzoloh hosted a dedication event of one of its ambulances in honor or a former Coordinator of Rockland Hatzoloh, R' Moshe Spielman obm.
by Monsey.info
At an event honoring R' Moshe Spielman obm, a beloved Coordinator of Rockland Hatzoloh, an ambulance was dedicated in his memory.
R' Spielman dedicated his life to Hatzoloh, ensuring that the life saving volunteers always had what they needed to continue helping others.
H-5, one of the Hatzoloh ambulances that covers the Town of Ramapo , was given a dedication to R' Moshe Spielman, placed above the side door.
Although his life may have been cut short , his chessed certainly lives on within the Hatzoloh organization.
The event, hosted by Hatzoloh of Rockland, included a buffet meal, and words from the CEO of Rockland Hatzoloh, Rabbi Klein.