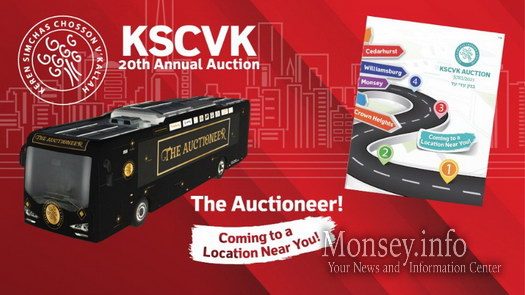 The KSCVK AUCTIONEER/BUS is coming to a community near you. Bringing the auction to you, where you can purchase your auction tickets and place them in the boxes yourself on the auctioneer. With a purchase at the Auctioneer, you will be entered for a chance to win a $360 visa card.
The early bird discount ends January 9th 2021
To get your early bird prices: Click Here www.kscvk.org
The auctioneer will be going to many locations and will be in the Monsey Area on Wednesday, January 13th through Thursday, January 14th.
The Auctioneer will be open on Sunday – Thursday 11:00am – 7:00pm, and on Friday from 11:00am – 2:00pm.
The Live Drawing will be held on Tuesday, January 26th at 7:45pm at kscvk.org