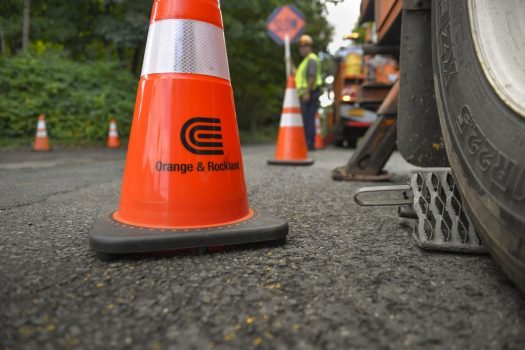 More Thunderstorms Expected Monday Evening
Late Monday afternoon into the evening scattered thunderstorms, some severe, are predicted to sweep through the region.
Heat and humidity will remain high through Sunday with mid 90s expected and dry conditions. Heat and humidity is expected to persist into Monday ahead of an approaching cold front which will bring scattered showers and thunderstorms from approximately 4 p.m. through about 10 p.m.
Isolated severe thunderstorms are possible during this timeframe. And, there is a risk that storms could organize into a line segment as they cross the area Monday evening. That would further increase the likelihood of severe thunderstorms.
Severe thunderstorms are defined as containing wind gusts over 57 mph, hail more than 1-inch in diameter and/or tornadoes.
Tuesday and Wednesday temperatures return to normal with slightly less humidity.
O&R company and contractor overhead line crews and tree removal experts, customer service representatives and the wide array of other O&R teams that support the emergency response effort will be activated Monday afternoon. In addition, based on the current weather forecast, O&R plans to obtain sufficient mutual aid contract resources to double the size of its field force.
For safety's sake, O&R warns the public not to touch or approach any downed wire. Assume all downed wires are energized and dangerous. Call O&R immediately toll-free 1-877-434-4100. Depending on the situation, you also should consider calling your local police to assume traffic control duties at the scene until an O&R crew arrives.