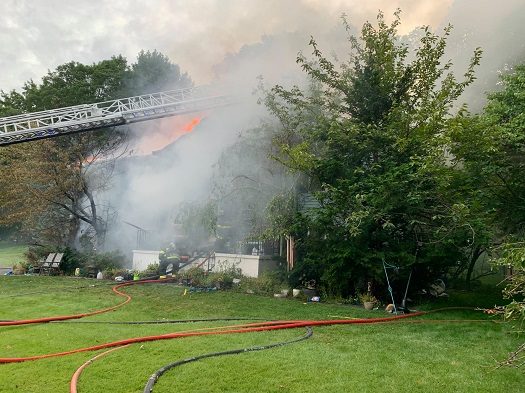 New City Home Destroyed in Fire, Thankfully No Injuries Reported
A house fire broke out in the New City section of the Town of Ramapo Wednesday evening, destroying the home but thankfully not injuring anyone.
According to the Ramapo Police Department, upon arrival of the police officers, they found the home fully engulfed in flames with all of the residents able to safely exit the house along with their pets.
The residents were able to obtain temporary housing, as after the fire was extinguished, the house was uninhabitable.
Hillcrest Fire Department was able to extinguish the fire with the aid of New City FD, Monsey FD, and Spring Valley FD.
Also assisting at the scene were Rockland Paramedic Services, Spring Hill Ambulance Corp, and New City Ambulance Corp.
The cause of the fire is currently under investigation by Ramapo Police Detectives, and Detectives from the Rockland County Sheriff's Bureau of Criminal Investigations.
Photo Credit: Ramapo PD Facebook