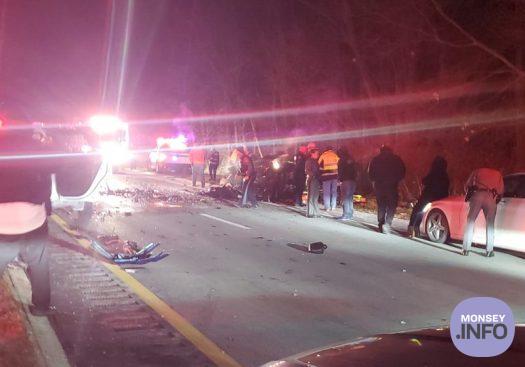 Palisades Northbound Shut Down Overnight Due to Double Fatal Crash
by Monsey.info
A double fatal early mourning crash on the Palisades shut down the Parkway going Northbound Sunday morning, after a driver was reported driving the wrong way.
According to reports, the initial 911 call came in around 2:30am near Exit 10 on the palisades stating that a wrong way driver had crashed and the victims were entrapped.
Emergency services immediately responded, bringing Fire, Police and EMS crews to the scene.
The two vehicles involved in the crash had collided head on, wrecking both vehicles and causing them to smoke.
After extricating the drivers, one was transported by New City EMS to Nyack Hospital, where he was pronounced deceased. The second was pronounced deceased on scene.
Hatzolah transported a third patient to Nyack Hospital with non-life threatening injuries.