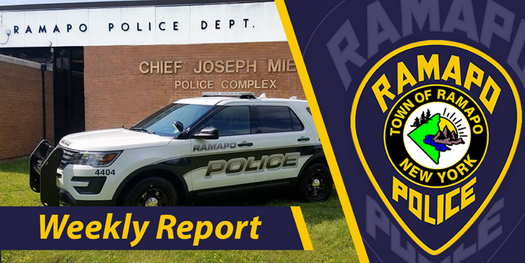 Photo: Ramapo PD Facebook
Here is a summary of the Ramapo Police Departments activity for the week of January 5th, 2020 through January 11th, 2020.
Officers responded to 1909 calls including:
-66 Alarm activations,
-468 Community Policing Reports, Which Includes 109 School Security Checks and 45 School Bus Safety Patrols,
-19 Domestic Incidents,
-55 Motor Vehicle Crashes,
-71 Medical Emergencies, Plus an Additional 114 Dispatched for Other Agencies.

There were 50 arrests for charges including Unlawful Possession of Marihuana, Criminal Mischief, Burglary, Petit Larceny, Assault, Grand Larceny, Criminal Possession of Stolen Property, Menacing, Criminal Possession of a Weapon, Harassment, Operating a Vehicle Without an Interlock Device, Criminal Contempt, Obstruction of Breathing, Rape, Sexual Abuse, Endangering the Welfare of a Child, Stop Work Order, Building Permit Required, Warrant Arrests, and Vehicle and Traffic Offenses.