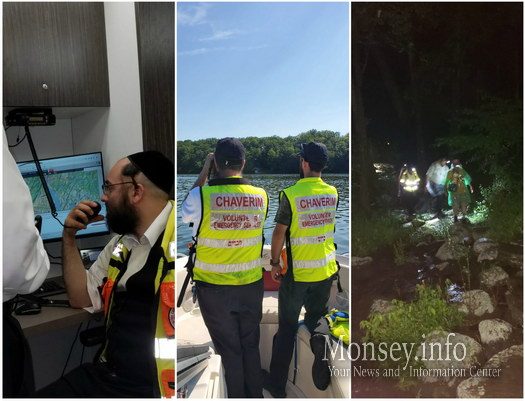 Chaverim of Rockland, who's volunteers specialize in wilderness Search and Rescues, operated on three high profile incidents in just one day. Between Motzai Shabbos and Sunday night, these incidents made the news, and made a big Kiddush Hashem.
by Monsey.info
Between Motzai Shabbos and Sunday night, Chaverim of Rockland responded to numerous calls for help and assistance. In three of those cases, Chaverims response required specialized search and rescue teams, and made the news.
1. Reb Dovid Traube z"l, a father of 7, was boating with his family when one of his children, who was swimming nearby, became distressed. Reb Dovid jumped in, and was able to help his child back onto the boat. Unfortunately, he sank under the the water, and did not resurface.
Chaverim of Rockland joined may other Search and Rescue teams as divers and boats began to search the lake, in the hopes of locating him.
As the day turned to night, the search was put on hold by the State Police. The teams waited impatiently for the green light to continue their search. In the late morning, permission was granted, and the teams again began combing the lake. Soon after, the body of Reb Dovid Traube z"l was located by State Police divers.
2. Bear Mountain is a popular destination for those inclined to the outdoors. Its well worn paths allow for good hiking trips, and its views are hard to beat.
As Sunday evening turned to night, a distress call was placed to Chaverim of Rockland. A man on a hike found himself disoriented with darkness closing in, and rain coming down.
Chaverim's Command Post was soon operating, and a Rescue Team dispatched. In just a short time, the hiker was found, uninjured and brought out of the woods.
3. For an incredible outdoor experience, Kakiat Park is a perfect option. The 376 acre park has paths for hiking and horseback riding, making for the perfect Sunday outing. A father and son duo took up the offer such a park provided, but unfortunately, it did not end as expected.
Ramapo Police received an emergency call that the son had gotten injured, and was unable exit the park to receive medical aid. Ramapo Police responded, and called Chaverim of Rockland to assist.
Chaverim's response helped bring the boy out of the park, where he was treated, and transported to the hospital for treatment.