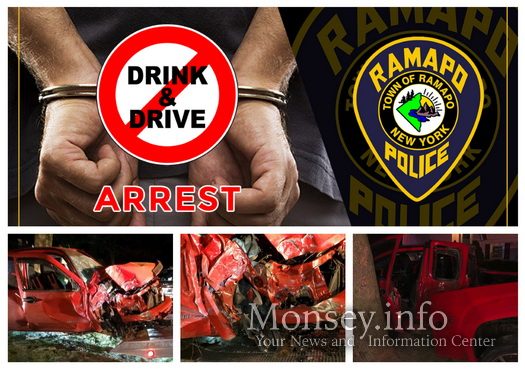 An early morning crash on Rockland Lane in Hillcrest left one car totaled, Saturday. The driver had fled the scene, but was located nearby, and arrested for DWI.
by Monsey.info
At 12:22am, a crash was reported to 911 on Rockland Lane in Hillcrest. The driver was reported to have fled on foot from the scene.
When officers from Ramapo PD arrived, they discovered a 2004 Chevy Colorado pickup truck that had struck a tree and sustained extensive damage.
The officers were able to locate the driver at a residence a short distance from the scene. He suffered minor injuries as a result of the crash and was placed under arrest.

Officers from the Town of Clarkstown PD, also arrived on scene and identified the vehicle and driver as being involved in another crash in their area shortly before this incident.
The driver was charged with Driving While Intoxicated, Leaving the Scene of an Accident, and multiple vehicle and traffic violations.