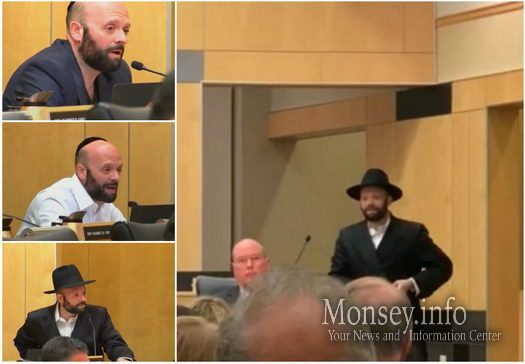 At a recent legislator address, Rockland Legislator Itamar Yeger took on anti-Semitic remarks made by another legislator. He highlighted his point by switching from "normal" clothes to his "Chasidic" clothes during his speech.
by Monsey.info
At a recent legislators session of the Rockland County Legislature, anti-Semitic remarks made by one legislator were called out by fellow Legislator Itamar Yeger.
Yeger, an Orthodox Jew, began his speech by introducing himself as a 16 year veteran of Rockland County, while wearing "normal" clothes. As his speech progressed, despite many interruptions, he transformed his image to that of a Chasidic Jew, simply by putting on "Chasidic" garb.
Showing that profiling people by their dress is not accurate nor helpful, He called out the anti-Semitic remarks made, naming them for what they are, anti-Semitic.
He fought the arguments that the Chasidic Jewish community are taking money from the public school system, citing facts and numbers to show the opposite. He took the legislature to task on its discussion of zoning, pointing out that zoning is a local matter, one decided by towns and villages, not legislature.
He finished his remarks by stating the positive influences the Jewish community has had on Rockland County. He noted the volunteering done, as well as the large number of jobs created by the community.
To watch the full speech: Click Here
Listen to Itamar Yeger of @RockLegislature address #Antisemitism, perpetrated against Orthodox #Jews, in some cases by Elected Officials of @RocklandGov, & @RocklandGOP, as he changes from "NORMAL" clothing, to "CHASIDIC" garb. https://t.co/MLtfHusfPc

CC: @NewYorkStateAG @ADL pic.twitter.com/a97rPrP3G2

— Rabbi Yisroel Kahan (@ykahan) September 9, 2019