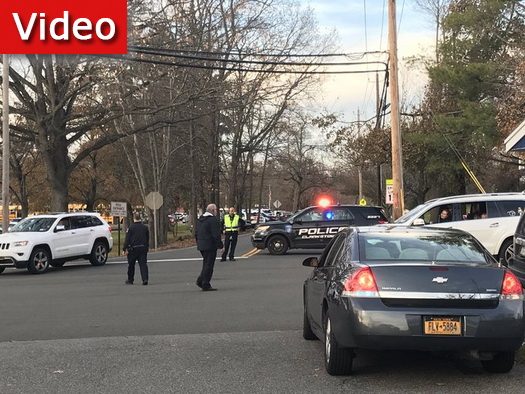 The Felix Festa Middle School in West Nyack was placed on lockdown for around an hour Thursday afternoon after weapons were reported on premises.
Multiple police agencies including Clarkstown PD, Ramapo PD, Orangetown PD, and the Rockland County Sheriff's Office responded to the scene around 3:00pm.
Busses became backed up and long lines formed as dismissal came, but no students were allowed to leave.
The lockdown was lifted around 4:00pm, and dismissal began.
Update 4:30pm: Clarkstown officials said Thursday's situation at Felix Festa Middle Schoolbegan when a staff member of the C wing portion of the school received a phone call from an unknown adult saying there was a gunman inside the school.
Felix Festa Middle School in lockdown @lohud #felixfestamiddleschool #lockdown #police #westnyack pic.twitter.com/wFQzNwuz19

— Carucha L. Meuse (@CaruchaLMeuse) November 21, 2019
Lockdown has been lifted. Will dismiss students. Felix Festa Middle School and BOCES in lockdown @lohud #felixfestamiddleschool #BOCES #lockdown #police #westnyack pic.twitter.com/heoXjFwl9K

— Carucha L. Meuse (@CaruchaLMeuse) November 21, 2019