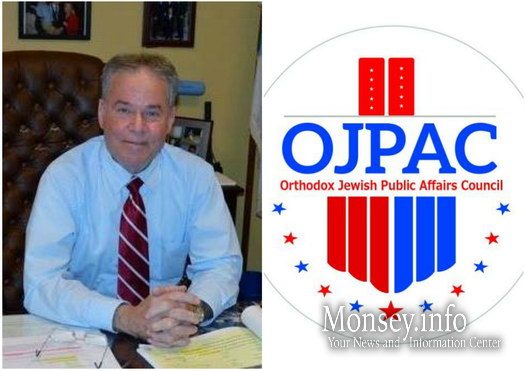 by Monsey.info
Rockland County Executive Ed Day faced a backlash after singling out two villages of Rockland County as being noncompliant.
"With 75% of the COVID infections within two zip codes in Ramapo and Spring Valley, it is unconscionable that these municipalities refuse to join the State task force and become part of the solution instead of causing the continuation of a problem," Day wrote. "The Governor personally informed me that he read the riot act to the both the mayor of Spring Valley and town supervisor of Ramapo last night. We will see what steps the governor will now take to ensure compliance to his Emergency Orders."
Day then goes on to accuse both towns of leaching resources from the rest of the county, demanding that the villages add their personnel to the state task force.
The message posted to Facebook garnered nearly 200 replies by Thursday evening, many with directly anti-Semitic statements and accusations.
The backlash came in the form of a post from the Orthodox Jewish Affairs Council, which called out he Executive for spreading false information.
"Ramapo and Spring Valley having now 75% of Rockland's cases is a flawed number if we don't know what portion of county tests those two areas produce," the OJPAC responded. "Those areas have a load of urgent care centers and health clinics so testing is easy to come by."
The post brings examples of skewed numbers from the local urgent cares, which are disproportionately located in the two villages and attract residents from across Rockland County.
The OJPAC also targeted the presumed mass spread of the virus.
"The total known cases in those areas is now 5 per 1,000 people. No, not 50 which would be 5% of the population. It's 5 per 1,000 or around 800 cases among 138,000 people so it may be helpful to lower the scary talk," they wrote. "But again, this number is irrelevant without looking at test totals because if you test more people you see more cases."
The OJPAC ended with a veiled hint that targeting Jewish establishment during enforcement would not be acceptable.
In response, Day wrote "Your observations are duly noted. As to the data and actions being taken, we are merely following that data with the express purpose of interrupting the local spread of the virus and prevent a full county viral involvement as happened in the Spring under extremely similar circumstances. Finally, and to your appropriate concerns about potential profiling, be assured that I have and will again reiterate to my team that any and all actions should strictly follow the facts, data and evidence with action consistent with those directives."