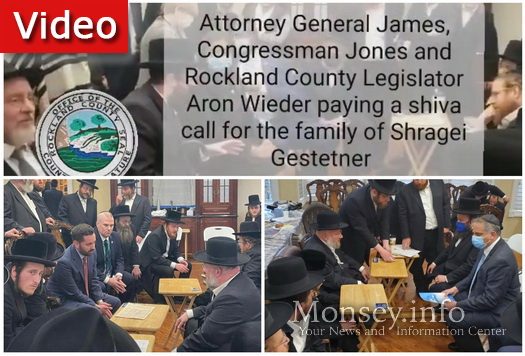 by Monsey.info
Activists and politicians including State Attorney General Letitia James made the journey to the Shiva home of the Gestetner family, to pay their respects to the family of a Meron victim.
Shragee Gestetner, aged 34, was a Chassidic singer who was one of the 45 people who died in the Meron tragedy.
"My condolences to each and every one of you," James told the Gestetner Family, "and whatever the office of the Attorney General can do we are there for you."
James's visit was accompanied by Rockland County Legislator Aron Wieder and Congressman Mondaire Jones.
The visit was part of a slew of high profile visits including one from Acting Consul General at Consulate General of Israel New York Israel Nitzan, accompanied by Rabbi Yisroel Kahan, and one from Assemblyman Mike Lawler and Rockland Chief Assistant DA Pat Frawley.
During the visit by Nitzan, he produced a letter to the family from Israel's President Ruvi Rivlin, offering his condolences to the family.