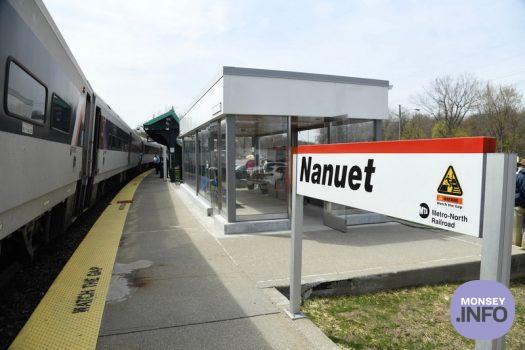 Rockland County Opposes MTA Congestion Plan
This week, in a surprise announcement, the MTA established its Central Business District (CBD) Tolling Program's Traffic Mobility Review Board (TMRB). The Board will be tasked, among other things, with recommending a plan for credits, discounts and/or exemptions for tolls paid the same day on bridges and tunnels.
Unfortunately, the MTA established its Review Board without any representation of MTA's West of Hudson service region, meaning Rockland County will not be represented.
In response, 𝐑𝐨𝐜𝐤𝐥𝐚𝐧𝐝 𝐂𝐨𝐮𝐧𝐭𝐲 𝐄𝐱𝐞𝐜𝐮𝐭𝐢𝐯𝐞 Ed Day 𝐬𝐚𝐢𝐝, "Rockland County is the least served by the MTA of any other member of the Metropolitan Commuter Transportation District (MCTD). Many of our resident commuters drive into Manhattan because of the dearth of transit options available to them and because of the sub-par, and often unreliable, rail service which is operated by NJ Transit via contract with Metro-North, and extremely limited in quantity and dismal in quality."
Rockland County is the only County in the MTA region that has a value gap, meaning our residents and businesses pay more to MTA than we receive back in transit service and funding. The last formal study, which was verified by the MTA's own analysis, placed that gap at about $40 million each year and growing.
"The MTA is happy to take our money but loathe to provide service and it is both insulting and disrespectful to the people of Rockland," said County Executive Day. "I urge that both the Traffic Mobility Review Board and the MTA Board ensure Rockland County residents receive a CBD toll exemption/discount and a river crossing toll credit as the congestion pricing plan process moves forward. Despite once again not having a seat at the table, I will be making sure that the plight of Rockland County commuters, who will be dramatically impacted by congestion pricing tolls, is known. I urge Rockland County residents to also make their voices heard next month at the upcoming public hearings."
Rockland County's MTA Board representative Frank Borelli expressed his concerns regarding the congestion pricing plan at this week's MTA Board meeting.
"Rockland County has no one-seat ride to Manhattan and we already have a $40 million annual value gap between what Rockland pays to MTA and what we receive in return," 𝐬𝐚𝐢𝐝 𝐌𝐫. 𝐁𝐨𝐫𝐞𝐥𝐥𝐢. "I am voting against the approval of this Review Board because of its lack of representation for MTA's West of Hudson customers. This action is no reflection on these qualified individuals, but there is a voice that's been left out that should be heard."
Borelli went on to say, "As Rockland County's voting representative on the MTA Board, I implore my colleagues and members of the newly appointed Review Board to learn more about Rockland County's decades-long inequity in the MTA region and act to ensure the CBD Tolling Program includes an exemption or heavy discount for Rockland residents and a credit for tolls we already pay to get to Manhattan."
𝐓𝐡𝐞 𝐌𝐓𝐀 𝐰𝐢𝐥𝐥 𝐡𝐨𝐥𝐝 𝐩𝐮𝐛𝐥𝐢𝐜 𝐡𝐞𝐚𝐫𝐢𝐧𝐠𝐬 𝐨𝐧 𝐭𝐡𝐞 𝐩𝐫𝐨𝐣𝐞𝐜𝐭'𝐬 𝐄𝐧𝐯𝐢𝐫𝐨𝐧𝐦𝐞𝐧𝐭𝐚𝐥 𝐀𝐬𝐬𝐞𝐬𝐬𝐦𝐞𝐧𝐭 𝐧𝐞𝐱𝐭 𝐦𝐨𝐧𝐭𝐡.
𝐓𝐡𝐞 𝐡𝐞𝐚𝐫𝐢𝐧𝐠𝐬 𝐚𝐫𝐞 𝐬𝐜𝐡𝐞𝐝𝐮𝐥𝐞𝐝 𝐚𝐬 𝐟𝐨𝐥𝐥𝐨𝐰𝐬 𝐚𝐧𝐝 𝐰𝐢𝐥𝐥 𝐛𝐞 𝐡𝐞𝐥𝐝 𝐨𝐧𝐥𝐢𝐧𝐞, 𝐚𝐜𝐜𝐞𝐬𝐬𝐢𝐛𝐥𝐞 𝐯𝐢𝐚 𝐭𝐡𝐞 𝐩𝐫𝐨𝐣𝐞𝐜𝐭'𝐬 𝐰𝐞𝐛𝐬𝐢𝐭𝐞:
𝐍𝐘𝐂 𝐂𝐞𝐧𝐭𝐫𝐚𝐥 𝐁𝐮𝐬𝐢𝐧𝐞𝐬𝐬 𝐃𝐢𝐬𝐭𝐫𝐢𝐜𝐭 𝐓𝐨𝐥𝐥𝐢𝐧𝐠 𝐏𝐫𝐨𝐠𝐫𝐚𝐦 (https://new.mta.info/project/CBDTP)
Thursday, Aug. 25, 5 p.m. to 8 p.m.
Saturday, Aug. 27, 10 a.m. to 1 p.m.
Sunday, Aug. 28, 1 p.m. to 4 p.m.
Monday, Aug. 29, 1 p.m. to 4 p.m.
Tuesday, Aug. 30, 5 p.m. to 8 p.m.
Wednesday, Aug. 31, 10 a.m. to 1 p.m.
Comments may also be submitted online as well as via email, mail, voicemail, and fax.