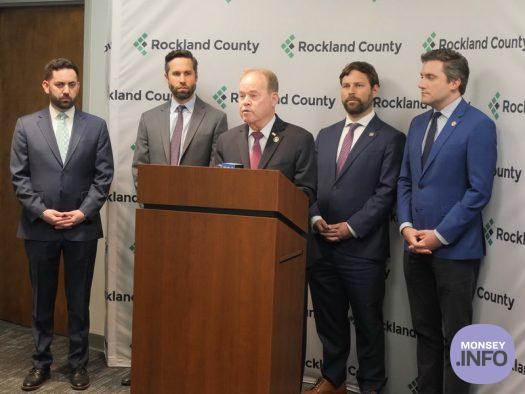 Rockland County Secures $500,000 From State To Fund The New Department of Buildings
by Monsey.info
Following up on his promise to not make the Rockland County taxpayer pay for the newly formed Rockland County Department of Buildings, County Executive Ed Day announced today that the county had received state funding for the new Department.
The state funding, to the tune of $500,000, was secured thanks to the combined effort of Senator Elijah Reichlin-Melnick, Assemblyman Kenneth P. Zebrowski, Assemblyman Mike Lawler, and Senator James Skoufis, according to a social media post from Executive Ed Day.
The new Department has already gotten to work in Spring Valley, citing multiple dangerous structures and giving violations for accumulated garbage.
"I was proud to stand with my legislative colleagues today as we announced that we were able to secure $500,000 from the state to cover the costs of the county's life-saving code enforcement work so that local taxpayers aren't left to foot the bill for these efforts," said Senator Elijah Reichlin-Melnick.
According to Melnik, County Executive Ed Day approached the group of elected officials asking for the state budget to include a half million dollars to help offset the expense of the newly established code enforcement team. After pressure from Rockland's state legislative delegation, the allocation was included in both the Senate and Assembly budget resolutions and was ultimately included in the final budget signed by Governor Hochul earlier this month.