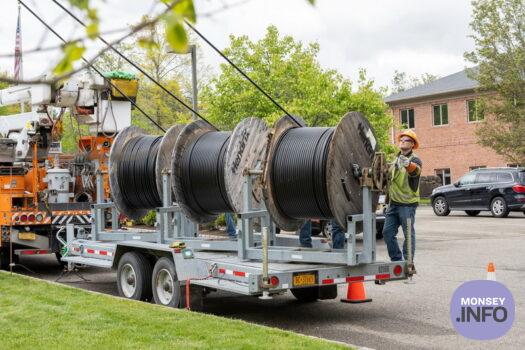 Rockland Electric Installs Stronger Wire, Poles to Upgrade Old Tappan Service
Rockland Electric Company crews are installing approximately 9,000 feet of new, tree resistant cable and 24 new, stronger poles as part of a $550,000 electric service reliability improvement project in Old Tappan, N.J.
Rockland Electric Company's Mike Dally feeds new spacer cable as it is strung along the new pole line on Old Tappan Road in Old Tappan, N.J.
The work, which began in early April, is designed to provide greater storm protection to the area around Old Tappan Road between Orangeburg Road and DeWolf Road
The tree-resistant cable is Hendrix Spacer Cable, a pre-engineered electrical distribution system designed for high reliability, tree contact resistance. It is also compact to reduce tree trimming clearances.
The wires are covered with two layers of polymer, designed to allow intermittent tree contacts without causing an outage. Those wires are supported by a high strength protective wire which provides mechanical support, serves as a system neutral, and acts as a shield wire against lightning.