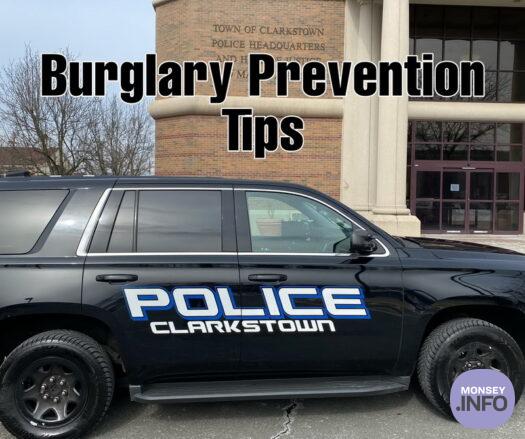 Several Residential Burglaries In Clarkstown Area, Police Give Tips For Prevention
The Clarkstown Police Department would like to inform the public that there have been several residential burglaries in our community and other neighboring areas. These burglars are breaking into homes and rummaging through them when it appears that no one is home. In some cases the burglar has chosen a home where the residence was occupied, in these instances the thieves have fled. As of this time, there have been no confrontations between these criminals and homeowners, but the police want the public to be aware of these circumstances. The burglaries have happened at various times throughout the day and evening.
The Clarkstown police are working in conjunction with other law enforcement agencies to determine patterns and similarities in attempts to put an end to these crimes and apprehend those that are responsible. The Clarkstown Police Department will continue to work diligently to protect our residents and their property. We are asking that you assist us in this effort by making sure all vehicles and homes are properly secured at all times.
There are several ways to help protect residential homes and valuables:
-Communicate with your neighbors and the police to report any suspicious people, vehicles, or noises.
-Turn on lights to limit any cover of darkness.
-Take part in our 9pm Routine, Always lock your home/vehicle doors and windows
-Make sure burglar alarms, or video surveillance systems are in working order and set them to activate when they detect motion.
-Once you are alerted, call the police immediately.
-Also, secure money, jewelry, documents and any other valuables in safes, and keep them securely fastened and hidden.
-Be vigilant and look out for your neighbors.
-Be mindful of strange phone calls and unknown people who show up at your door. They may be checking to see if anyone is home.
-Do not use social media sites to inform others of when you will be away from home.
-If you see any suspicious vehicles, persons, or activities do not intervene, but call the police immediately.
To contact the Clarkstown Police Department please call 845-639-5800 or dial 911 for all emergencies.