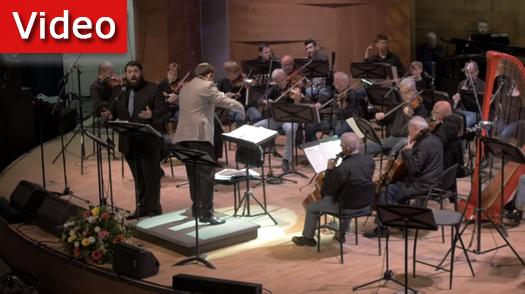 In concert just one year ago! Oh what a different world we live in!
As described in this week's parsha, experience the exodus with this rendition of Betzes Yisrael – "when Israel came out of Egypt".
Performed with conductor Ofir Sobol and the Symphonette Raanana תזמורת סימפונט רעננה
The melody for "Betzes Yisrael" was composed in the 1930's by the second rebbe of the Modzich Hasidism – known as the author of the "Emri Shaul". In 61 years of his life, the Rebbe composed more than 1,500 melodies and is considered one of the most prolific Jewish composers.
The melody, published by Ben Zion Shenker, has become one of the most popular melodies from the Hallel prayer. Arrangements by Laszlo Roth and Ofir Sobol.
Brought to your by יובל האנסמבל הישראלי לחזנות productions. Directed by Ofor Sobol.
Special thanks to Asaf Sobol!